Da Brat Talks Friendship With Mariah
Posted by
Jonny
on Saturday, 08-Mar-2014, 3:50PM EST
In 1997, Lil' Kim, Lisa "Left Eye" Lopes, Missy Elliott, Da Brat and Angie Martinez teamed up on "Not Tonight (Ladies Night Rmx)," a selection Da Brat recently spoke about during an interview with Billboard.

"The whole experience was amazing," Da Brat said regarding her work on the track. "It was like a big-ass cookout with everybody there eating, drinking and having fun. Lance Rivera put that together, with the support of all our labels. I still watch it and say, 'Wow I wish we can do this again,' but in a bigger way. I don't want to do it again and it look like a bootleg of 'Ladies Night.' I want us to all be on the top of our game like we were back then and make a part two but have it be bigger and better. I want us female[s] to unite and do something that would knock the world off its feet."

Da Brat also speaks about her bond with another woman in the entertainment business, Mariah Carey.

"I first met her when working on the remix to 'Always Be My Baby,'" Da Brat says. "I felt like she was just like me, but she had to keep it shielded. She wanted to do the things I did and talk the way I talked. She was signed to Sony and had this reputation to uphold of being a diva. That's why we jelled. She was living through me and we became the best of friends. We're both Aries and both like to have fun that's why we say we're 'eternally 12,' 'cause we're kids.

"She was so down to earth, but her circumstances didn't allow her to do things," Da Brat continues. "We'd be in the studio at Tommy Mottola's house and she'd whisper because cameras were everywhere. It's like she was trapped. I had never seen someone have everything, but be so unhappy inside because they couldn't be themselves."

Da Brat is is the sixth rapper featured in an edition of Billboard's Ladies First. Yo Yo, MC Lyte, Angel Haze and Charli Baltimore have also been included in the series.
A Lamb's Fantasy Evening in Mariah's Moroccan Room
Posted by
Jonny
on Friday, 28-Feb-2014, 10:20PM EST
"One of the most amazing nights of our lives! We're still in a daze and it's so surreal to tell people the story of everything that happened," grand prize winner Lisa Thomas told us. It sure does sound surreal!
The private concert experience with Mariah Carey started with Lisa and her friends Andrew and Jennifer being escorted inside Mariah's home and into the famous Moroccan Room (yes - the same one you saw on MTV Cribs!) to meet the glamorous diva.
Then the cameras went away, and things became even more surreal! Mariah chatted away with Lisa, Andrew and Jennifer, asking them to share their favorite songs with her - she then sang parts of the songs and held out the mic for them to sing along with her. Songs included "Lead the Way," "Slipping Away," the intro whistle to "Migrate" and part of her brand new single, "You're Mine (Eternal)."
Of course, Mariah also had some surprises planned! She had a few tracks prepared to sing for the group - but it became a truly interactive experience, as she would encourage everyone to sing with her and take over lines while she chimed in with incredible ad libs and harmonies.
And of course, they just went for it! Can you imagine what it must be like to sing for Mariah - or rather, WITH her, in this case? Well, Lisa, Andrew and Jennifer are 3 of the lucky few that can say they have. Highlights included the hits "Touch My Body," "My All," and even the true Mariah classic "Hero" (!!).
From Lisa: "The night with Mariah was one of the most incredible and surreal moments of our lives, and we've been reliving it ever since! Mariah was warm, witty, and above all, her voice sounded absolutely amazing. It was a dream come true to hear Mariah sing songs she's never sung live like "Lead the Way" and "Slipping Away," and now our lives can be divided into two sections—before and after we met Mariah Carey!!"
Incredible, right?! Sounds like they had the time of their lives. We wouldn't have it any other way!
Mariah & DJ Suss One Take Over Power 105.1
Posted by
Jonny
on Thursday, 27-Feb-2014, 8:17AM EST
Recently, Mariah stopped by Power 105.1 to chat with DJ Suss One. Check out clips from their interview below:


Director Sanaa Hamri on Mentor Mariah Carey
Posted by
Jonny
on Wednesday, 26-Feb-2014, 7:49PM EST
Music video and film director Sanaa Hamri moved to New York with dreams of making it big as an actress. But like so many others, she found herself struggling through endless auditions and unemployment. Born worlds away in the town of Tangier, Morocco, Hamri wasn't afraid to fight back. She'd grown up in a traditionally male-dominated society and her rebellion against gender stereotypes had helped put her on this creative career path.
Refusing to give up, she changed tact finding work with a post production company. She was soon noticed by cinematographer Malik Sayeed who, in turn, introduced her to Mariah Carey.
And with the famous singer's guidance, Hamri embarked on a new, highly successful, career trajectory, leaving her mark on the entertainment industry.
Hamri went on to direct numerous high-profile music videos as well as three feature films and several episodes of popular TV shows like "Desperate Housewives" and "Glee." Here she reveals to CNN what's like to collaborate with entertainment royalty like Lenny Kravitz or Nicki Minaj while achieving success among the stars in Tinseltown.
Networking is key (especially when it's with Mariah Carey).
While working for a production company, the ambitious Moroccan soon found herself in the midst of some of the biggest names in music but it was an introduction to "songbird supreme" Mariah Carey who would lead her to her calling. "One day she turned to me and said, 'You know, you really should direct' ... And then I got the opportunity to direct her in this video called "Thank God I Found You (Remix)" ... [Directing] was extremely natural to me and I realized that Mariah was right -- this is where I belong."
Take every opportunity to learn something new and always ask questions.
In addition to the mentoring Carey provided to her, the songstress would also provide industry insight and help explain the ins and outs of working among the best in the business. "(She would say) 'this is what it means in America when we say this,' because she was used to foreigners. she understood that. And whether it was working with her, Jay-Z, or Destiny's Child, or Sting, any of those people, I would learn from them."
Read more
here
.
Download: Mariah Performs at BET Honors
Posted by
Lynn
on Monday, 24-Feb-2014, 11:53PM EST
Check out a video of Mariah performing "You're Mine (Eternal)" at
BET Honors
that aired on the BET network on Monday, Feb. 24, 2014.

Download: Mariah Performs "You're Mine (Eternal)" at BET Honors
Source: MariahDailyJournal
"You're Mine (Eternal)" Music Video Released To iTunes
Posted by
Jonny
on Saturday, 22-Feb-2014, 12:53AM EST
The music video for "You're Mine (Eternal)" has been released on iTunes to many markets around the world, including North America, United Kingdom, France, Germany, Australia, Japan, Singapore, Brazil, South Africa, and more! Be sure to check out your local iTunes store to see if the music video is available for you to purchase.
Also, below, see an image of a nice banner advertising "You're Mine (Eternal)" on the front page of the iTunes Mexico store!
Source: MariahDailyJournal | iTunes
Mariah Carey's Mardi Gras Krewe
Posted by
Jonny
on Friday, 21-Feb-2014, 7:47AM EST
A group of friends had a "Vision of Love"... To celebrate Mardi Gras they wanted to pay tribute to Superstar, Mariah Carey.
News with a Twist's Kenny Lopez introduces you to the "Krewe of Mariah"...
This year's theme is: "All I Want For Mardi Gras Is You," where they'll be throwing special Santa Claus-themed Koozies and other "glitteriffic" treats.
You can catch the "Krewe of Mariah" marching in the Krewe of Freret's parade this Saturday on the Uptown route. The parade rolls at 2:30 p.m.
For more information:
kreweofmariah.com
or
http://www.facebook.com/KreweofMariah
See a video of this news story
here
.
Billboard Update
Posted by
Jonny
on Thursday, 20-Feb-2014, 10:03AM EST
Below, see Mariah's chart positions in the March 1, 2014 issue of
Billboard
magazine.
"You're Mine (Eternal)"
Hot 100: #88 (New entry)
Hot R&B Songs: #15 (New entry)
Hot R&B/Hip-Hop Songs: #24 (New entry)
R&B/Hip-Hop Digital Songs: #12 (New entry)

Billboard Social 50: #38 (Last week: #41)
Please continue to support "You're Mine (Eternal)."
Source: Billboard | MariahDailyJournal
Download: MTV First - Mariah Carey
Posted by
Lynn
on Thursday, 20-Feb-2014, 4:33AM EST
Source: Rebecca
"You're Mine (Eternal)" Enters Hot 100
Posted by
Jonny
on Wednesday, 19-Feb-2014, 4:34PM EST
Following its release a week ago, Mariah Carey's "You're Mine (Eternal)", the first single from her new album due May 6, enters the Hot 100 at No. 88. Opening sales of 32,000 account for 62% of its chart points. The ballad is Carey's 46th Hot 100 hit, as well as her first non-collaboration/non-cover/non-holiday entry since "Obsessed" became her 27th and most recent top 10 (reaching No. 7) in 2009.
Mariah Performs For Prizeo Contest Winner
Posted by
Jonny
on Tuesday, 18-Feb-2014, 8:36AM EST
Last night, Mariah performed a private concert at her New York home for Prizeo contest winner Lisa Thomas and her guest. Lisa was the grand prize winner, who was awarded this special event for making a donation to the St. Jude's Children's Research Hospital.
After the show, Lisa tweeted a few details about the performance:
Was that a dream?? She sang Touch My Body, My All, Hero, You're Mine (Eternal), and by request Slipping Away and Lead the Way!! Pics soon!!
Mariah Makes Cameo Appearance on The Tonight Show
Posted by
Jonny
on Tuesday, 18-Feb-2014, 8:10AM EST
Last night, Mariah made a surprise cameo appearance on The Tonight Show With Jimmy Fallon. As part of his first night hosting the program, Fallon introduced the segment by stating that an unnamed friend had bet him $100 that he would never host Tonight. Mariah was part of a series of celebrities who walked on to the set and presented Jimmy with $100. See the clip below:


Mariah To Appear on "The Ralphie Show" on Thursday
Posted by
Jonny
on Monday, 17-Feb-2014, 11:13PM EST
Earlier today, syndicated radio personality Ralphie Aversa interviewed Mariah for his program "The Ralphie Show." After the interview, Aversa took to his Twitter account to announce what he earlier referred to as "quite possibly one of the biggest interviews" he's ever done:
Ralphie Aversa
Yes, @MariahCarey joins #RalphieShow @955PLJ Thursday at 7p. #Lambily

Ralphie Aversa
Thank you @dankellyvo @danmulqueen @BrianFalduto for working a holiday and helping w/ today's Mariah interview. #RalphieShow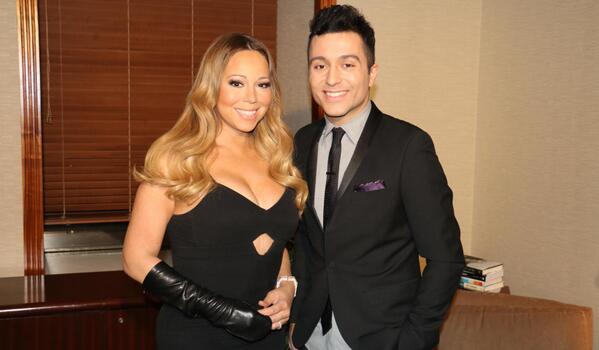 Mariah's interview will air on "The Ralphie Show" on Thursday, February 20. "The Ralphie Show" airs on the following northeast US stations:
95.5 PLJ - New York
92 PRO-FM - Providence, RI
Q105 - New London, CT
97 BHT - Scranton/Wilkes-Barre, PA
US Singles Sales Figures Update
Posted by
Jonny
on Monday, 17-Feb-2014, 6:35PM EST
The following data regarding Mariah's top selling physical and digital singles in the US was shared today by the Twitter account
@ChartNews
. This account gets its data from Billboard, Soundscan, Hits Daily Double, Chart Watch, Chart Beat, and Mediatraffic.
10 Top-Selling US Physical Singles
One Sweet Day | 2,335,000
Fantasy | 1,605,000
My All | 1,484,000
Honey | 1,276,000
Always Be My Baby | 1,254,000
Hero | 1,145,000
Dreamlover | 935,000
I Still Believe | 860,000
Heartbreaker | 855,000
Thank God I Found You | 687,000
10 Top-Selling US Digital Singles
All I Want For Christmas Is You | 2,810,000
Obsessed | 1,764,000
We Belong Together | 1,679,000
Touch My Body | 1,622,000
#Beautiful | 1,185,000
Always Be My Baby | 890,000
Shake It Off | 829,000
Hero | 668,000
Fantasy | 640,000
Bye Bye | 598,000
Mariah Supports Second Annual Pin It To Give It
Posted by
Jonny
on Monday, 17-Feb-2014, 3:31PM EST
Log on to your Pinterest account and join Mariah in supporting Elizabeth Arden's "Pin It To Give It" campaign. See the details as shared by Mariah via social media:
Join me for the second year of @Elizabeth Arden's Pin It To Give It campaign on Pinterest! All it takes is one re-pin and Elizabeth Arden will donate one lipstick to charity Look Good Feel Better. Join me and Pin It To Give It to help women undergoing cancer treatment http://www.pinterest.com/elizabetharden/pinittogiveit/
Source: Mariah via Facebook
Mariah: The Twins Will Be On My New Album
Posted by
Jonny
on Monday, 17-Feb-2014, 3:25PM EST
Mariah Carey has collaborated with everyone from Whitney Houston to Jay Z. But her cutest featured artists are yet to come: her kids!

That's right. Dem babies - 2 1/2 year-old twins Moroccan and Monroe - will make their recording debut on their superstar mom's upcoming album, out in May.

"It's a song that I wrote with Bryan-Michael Cox and Jermaine Dupri. There's a part that Jermaine says on the song that [the kids] loved, and Monroe started to say it," Carey told PEOPLE at the Empire State Building's Love Above All lighting ceremony in New York City Thursday.

"I kept having to get my iPhone and record her. So I have all these different takes of her saying things, singing things. Then I'd be like, 'This is your new ad lib - learn it!' I have to make it fun for her."

Carey isn't the first diva to feature her child on a new track, though. Beyonce's daughter Blue Ivy, 2, appeared with her on "Blue" in December.

Carey debuted her latest single "You're Mine (Eternal)" at the 2014 BET Honors. The performance attracted quite a bit of buzz - mostly because of the singer's barely-there gown.

"I was [worried about a wardrobe malfunction] when I laid on the piano," she says. "Right before the lights went on me, I heard 'Pop! Pop! Pop!' The supposedly see-through wires broke. Nobody saw anything, and it was by the grace of God that I got through the performance."

The singer's done her fair share of performing over the years. But does she see music in her kids' future?

"Well, they started singing and talking simultaneously. It's hard to explain. That sounds like a lie, but it's true," she says. "They're both so musical."

When they're not in the recording studio, Carey says the twins love spending quality time with their mom.

"Their favorite thing is: 'Lie down, Mommy.' Meaning: 'Lay with me and watch a movie,'" she says. "Because otherwise they have to watch Your Baby Can Read or something educational. I'm a tough task-master like that."
Mariah Visits OutQ 109
Posted by
Lynn
on Sunday, 16-Feb-2014, 1:37AM EST
Mariah stopped by
The Morning Jolt with Larry Flick
on SiriusXM's OutQ 109 in New York on Thursday, Feb. 13, 2014. She talked to host Larry Flick about her new music, the collaborative process, and how her recognition as a musician adds to her professional longevity. Listen to an audio clip below!
Below are some photos of Mariah and Larry Flick at the SiriusXM studios.
Mariah & Nick To Appear On VH1's The Fabulous Life
Posted by
Jonny
on Saturday, 15-Feb-2014, 10:54PM EST
Mariah and Nick will be featured on the new season of VH1's The Fabulous Life, which premieres on March 5. The airdate for their episode has not been announced yet.

Catch the trailer for the new season below:


Source: VH1
Download: Mariah on 106 & Park
Posted by
Lynn
on Saturday, 15-Feb-2014, 1:17AM EST
Mariah makes a live appearance on BET's
106 & Park
to premiere the music video for "You're Mine (Eternal)" Remix feat. Trey Songz on Friday, February 14, 2014.

Mariah on BET's 106 & Park for the world premiere of
"You're Mine (Eternal)" Remix feat. Trey Songz Music Video
[ Download a video file here. File will expire on Feb. 22, 2014 ]
Source: MariahDailyJournal
Steam Books Readers Receive "You're Mine (Eternal)"
Posted by
Jonny
on Friday, 14-Feb-2014, 11:02PM EST
Valentine's Day Surprise: Steam Books Romance Readers Receive Mariah Carey in Their Inbox
E-publisher sends latest Mariah Carey ballad to its customers as a holiday gift.
Romance readers are used to steamy love stories on their e-readers, but this Valentine's Day many of them are getting it in audio form, too. E-publishing imprint Steam Books is emailing them a romantic gift in the form of an iTunes download: Mariah Carey's latest love song, "You're Mine (Eternal)," the publisher announced Thursday.
Readers who have signed up to the Steam Books mailing list, dubbed "Team Steam," will receive an email containing a link to download the song from the iTunes online store. Emails are being sent in batches starting Valentine's Day and throughout the weekend.
"We wanted to do something for Valentine's Day that was unique," explained representative Scott Kessinger. "Something that was special and something that you might not expect, but at the same time is perfectly in tune with the themes of romance and sensuality that the Steam Books brand represents. A popular love song on Valentine's Day weekend fit the bill splendidly."
Demographics play a large part in the choice of gift, as well. "Multicultural and interracial themes are very popular with our readers," says Kessinger. "Mariah Carey has advocated a positive image of multicultural, biracial and interracial relationships throughout her career, in both song and in-person, and that made her a perfect choice for our campaign."
However, the publisher wants to set the record straight: "There's no deal in place. This isn't about us officially endorsing Mariah Carey or her record company or vice-versa. We just think it's an appropriate thank-you to our readers on Valentine's Day."
Steam Books launched in 2012 and quickly found a niche in the ebook space with its brand of inexpensive short-form stories and novelettes. Their catalog of over 200 titles has sold in the tens of thousands in countries worldwide and is available at popular retailers such as Amazon, Barnes & Noble, and Kobo. Readers can join the "Team Steam" newsletter mailing list by signing up through the publisher's website at steam-books.com or JoinTeamSteam.com.
Source:
Jennifer |
PR Web
| Avery
Watch "You're Mine (Eternal)" Remix Video
Posted by
Can
on Friday, 14-Feb-2014, 6:39PM EST
Check out the video for the "You're Mine (Eternal)" Remix featuring Trey Songz.


New Album Cooking 'Like a Honey-Baked Ham'
Posted by
Can
on Friday, 14-Feb-2014, 5:25PM EST
In the last two years, Mariah Carey has cycled through three managers, two album release dates and four new tracks-will her fifth be the charm? On Feb. 12, Carey unveiled the latest single from her long-delayed new album. The finger-snapping ballad "You're Mine (Eternal)" is her fifth new song since 2009's Memoirs of an Imperfect Angel, none of which has risen higher than No. 15 on the Billboard Hot 100. With Carey's 14th album now slated for May 6, a lot is riding on the fate of "You're Mine" for both Carey and her label, Island Def Jam.

How's it doing? The track garnered a modest 245 all-format plays in its first day at radio, according to Nielsen BDS, though the IDJ strategy is to let it develop organically before a radio push begins Feb. 24. And sources at radio say the straight-ahead ballad may be the kind of return to form Carey needs. The hope is that after almost four years of work, Carey's next record is back on track.

Songwriter/producer Bryan-Michael Cox says that work on the project began before the summer of 2010. "We started on this before Mariah got pregnant," he says. But her difficult pregnancy and the birth of her twins in April 2011 delayed work, as did her season as a judge on "American Idol" last year, and, finally, a shoulder injury while filming the video for her single with Miguel, "#Beautiful," last July. "Life happens, and that added to the organic process of making this album," Cox says. "Over the past couple of years we've added songs, scratched songs, slow-baking this record like a honey-baked ham. And when you take a bite of that ham-people will be extremely and pleasantly surprised."

IDJ certainly hopes so. The label's 2013 market share of albums plus track-equivalent albums was 4.0%, according to Nielsen SoundScan, ranking it eighth among the major mainstream labels, or second-to-last ahead of Epic. Carey's album was originally slated for release last March, then July. With IDJ's top performing albums in 2013 coming from Kanye West (625,000 units), Fall Out Boy (598,000) and Rihanna (592,000), another release from an artist of Carey's caliber would have boosted the label's bottom line.

In an interview with Billboard last year, Carey hinted the album would feature a "lot more raw ballads than people might expect." And in reuniting with producers Jermaine Dupri (who succeeded Randy Jackson and then Red Light as her manager last October) and Cox-as well as collaborating with Hit-Boy, The-Dream, Rodney Jerkins and Mike Will Made It-she said it was about "making sure I have tons of good music."

Cox describes the album as a "mashup of what's new, a melange of R&B, hip-hop and pop plus the classic melodies and lyrics we know her for." A major-market R&B/hip-hop programmer says Carey and IDJ will enjoy a "solid measure of success" if the singer returns to her roots: great midtempos and ballads. "'Sonically, her last album wasn't bad," the programmer says. "But it depended too much on samples and guest appearances. There's no sample on this new single, but again the buy-in factor to a younger, hipper audience is that she's paired on a remix with Trey Songz to help co-sign how relative she is to new consumers who may not be aware of her previous track record of success. I'm not sure if they're going to opt in."

Revving up for her return, Carey and MTV teamed for the global video premiere of "You're Mine" on Feb. 12. A day later, she was scheduled to flip the switch to light New York's Empire State Building in red and pink for Valentine's Day, then appeared on BET's "106 & Park" for the network premiere of the remix video with Songz. Carey will also perform the new single on "BET Honors," airing Feb. 24.
"You're Mine (Eternal)" Remix Video to Premiere on BET
Posted by
Can
on Friday, 14-Feb-2014, 4:32PM EST
Don't miss Mariah premiering the video for "You're Mine (Eternal)" Remix featuring Trey Songz at 6:00 pm ET today on BET 106 & Park!

Source: Mariah via Twitter
Send A Mariahgram To Your Valentine!
Posted by
Can
on Friday, 14-Feb-2014, 4:03PM EST
Online Users
ON THE COVER »

---





UPCOMING EVENTS »

---

May 6, 2014
New Album Release

ON THE TUBE »

---

February 24, 2014
BET Honors - Mariah performs "You're Mine (Eternal)"
BET - 9pm ET