October 2011
Mariah Scans
Posted by
Lynn
on Monday, 31-Oct-2011, 6:31PM EDT
Below are recent scans from French magazines
Gala
,
Public
and
Closer
.
Gala:
Mariah Carey - her baby twins entertain us already. We couldn't wait to see them, the voluptuous diva's son & daughter appeared for the first time on US television... with style. Just like their mother, they already bat eyelashes, they strike a pose, they don't care being late. As a proof of that, we had to wait for 6 months until we got to see their cute faces.
The article also gives a summary of the
20/20
interview with Barbara Walters.
Public:
"She showed off her twins for the first time. Why she hid them for so long? Better late than never, it took 6 months to see Monroe & Moroccan's cute faces. Mariah Carey & Nick Cannon's twins born on April 30."
The article talks about the "Fantasy" Live story, the fertility treatment, the "We Belong Together" lullaby scene. They conclude by saying that unlike her marriage with Tommy Mottola, with the birth of her twins her life is now a fairytale.
Source: Scans & Translation: Sam
Mariah, Bieber to Perform Christmas Duet Live on Stage
Posted by
Lynn
on Monday, 31-Oct-2011, 5:46PM EDT
Justin Bieber & Mariah Carey together on stage for one night – and
On Air with Ryan Seacrest
is sending one lucky winner and guest to this special performance. Prize package includes roundtrip coach airfare for two to LA, 2 nights hotel accommodations, 2 tickets to the performance, and Justin Bieber meet & greet.
Enter the contest by clicking
here
.
Video: Oprah's Lifeclass Features Mariah Superfans
Posted by
Lynn
on Sunday, 30-Oct-2011, 3:33AM EDT
Mariah Carey superfans Will and Marcus were featured on last night's
Oprah's Lifeclass
on OWN in a special episode highlighting the very best of
Oprah
fan moments.
Two years after their ultimate Mariah experience, Mariah superfans Will and Marcus came back in the final season of
The Oprah Winfrey Show
to talk about how being on
Oprah
and meeting their idol Mariah Carey changed their lives in ways they never expected.
Oprah: "Here's a moment totally unexpected by me and by two members of our audience. That was an experience of pure joy rising for them and as you can see also from me 'cause I get great delight in seeing other people have a good time. Everybody always thinks it's about the things. I know for sure it isn't about the things. It's about the feeling the comes from the things.

Oprah's Lifeclass Featuring Mariah Superfans - OWN, Oct. 28, 2011
[ Download here ]
Related Article:
Oprah Pays Tribute to Two Mariah Fans
(Apr. 26, 2011)
Source: MariahDailyJournal
Mariah, Bieber to Film Christmas Video
Posted by
Lynn
on Saturday, 29-Oct-2011, 12:01AM EDT
Mariah and Justin Bieber are scheduled to shoot a music video for their Christmas duet "All I Want for Christmas is You" in an undisclosed location in New York on Saturday, November 5th. A casting call is currently underway for adult extras to take part in the video as shoppers and sales people.

Mariah and Justin's duet of Mariah's best-selling Holiday song "All I Want For Christmas Is You" is included on Justin's new Christmas album Under The Mistletoe that's slated for release this Tuesday, November 1st.
Source: MariahDailyJournal
Billboard Update
Posted by
Lynn
on Friday, 28-Oct-2011, 4:38PM EDT
Below, find Mariah's chart positions in the November 5, 2011 issue of Billboard magazine.
Merry Christmas II You
Billboard Holiday Albums: #41 (Last week: #45)

"All I Want For Christmas Is You"
Billboard Holiday/Seasonal Digital Songs: #2 (Last week: #3)

"Oh Santa!"
Billboard Holiday/Seasonal Digital Songs: #45 (Re-entry)
Source: MariahDailyJournal | BrainD
Bieber Has Difficulty Singing Mariah's Christmas Song
Posted by
Lynn
on Friday, 28-Oct-2011, 4:09PM EDT
The Biebs' ever-present manager, Scooter Braun, reveals why the "Mistletoe" singer's voice is a little deeper and smoother on his new album, saying it's because his vocal cords have matured.
"Vocally, his balls have dropped," Braun told
Billboard
.
Braun explained that the "Baby" singer will still be able to charm his fans with that voice of his, even if it changes as he matures. Braun said that the remix of "All I Want for Christmas Is You" with Mariah Carey on Bieber's new Christmas album was a bit difficult for him to sing, because Mariah wanted the song sung in her original key.
"That was the hardest song to do," Braun tells the magazine. "A year ago that would have been no problem."
Bieber agreed that it "was high," but that he was eventually able to hit the notes.
"Yes, that was high, but I grinded it out and we got it down," the singer said.
Mariah on The Rosie Show Nov. 8
Posted by
Lynn
on Friday, 28-Oct-2011, 3:39PM EDT
TV Guide
lists a
new
episode of
The Rosie Show
with Mariah Carey as special guest on Tuesday, November 8 at 7:00pm ET on OWN.
No other details are currently available. As soon as we know what this appearance is about, we will let everyone know.
Source: MariahDailyJournal
Mariah's Twins in Life & Style
Posted by
Lynn
on Friday, 28-Oct-2011, 3:15PM EDT
Source: MariahDailyJournal
Mariah Enlists Big Jim Wright & Randy Jackson
Posted by
Jonny
on Thursday, 27-Oct-2011, 5:08PM EDT
Now that Mariah Carey has debuted her twins to the world and discussed all of the intimate details of her tumultuous pregnancy, she has become completely focused on her next studio album. In fact, the diva has summoned several industry heavyweights to the studio, including producers James "Big Jim" Wright and Randy Jackson.
However, this wasn't the first time that Carey has worked with Wright or Jackson. She previously collaborated with the former on several tracks from her critically lauded
The Emancipation of Mimi
album, such as "Fly Like a Bird" and "I Wish You Knew.". Additionally, Jackson has been a member of Carey's band since her debut and crafted most of her
Merry Christmas II You
alongside Wright and Marc Shaiman.
Other named contributors to Carey's new project thus far include Jermaine Dupri and Da Brat. The latter confirmed that she wrote new material for record earlier this month. Whether the LP will be released via one of the Epic Label Group's labels, as hinted by LA Reid, has yet to be confirmed.
See what Wright said about his recent studio session with Carey below:
Trying to sleep but can't grrrrr Was in the studios late with @YO_RANDYJACKSON working on some @MariahCarey tracks.
Carey is certainly doing her best to ensure that her new album is the hit that she needs at this stage in her career. The named collaborators have masterminded some of her most praised material and have exhibited a unique understanding of her voice.
However, it would also be a thrilling occurrence if James Poyser – the producer of Carey's "Mine Again" from
The Emancipation
– and Marc Shaiman became involved in the project. Of course, Carey's former writing partners Walter Afanasieff and Ben Margulies would also be welcome additions to the album.
Indeed, Nick Cannon confirmed that Carey is seeking inspiration from her debut album and the
Emotions
LP. Hence, working with Afanasieff and Margulies, who were the main contributors to those records, would be an excellent way for her to channel that artistic energy. Still, Wright and Jackson's inclusions are enough to stimulate excitement!
Uncle Murda On Working With Mariah Carey
Posted by
Jonny
on Sunday, 23-Oct-2011, 2:57PM EDT
Uncle Murda recently sat down with Angie Martinez on New York's Hot 97, where he talked about his recent collaboration with Mariah Carey on the "re-remix" of his "The Warning."


Angie Martinez:
I remember when Uncle Murda had 'Bullet Bullet" out and I had Mariah Carey on my show, and then I was asking her what are her songs, what she was feeling right now, and she was like "I like 'Bullet Bullet!'"
Uncle Murda:
And from there it's been on. Me and Mariah got a good relationship.
AM:
You do?
UM:
Yes.
AM:
Really?
UM:
She's actually on "The Warning" remix.
AM:
Shut up!!
UM:
"The Warning" re-remix.
AM:
Uncle Murda, are you sitting in my studio right now telling me that Mariah Carey--
UM:
Is on "The Warning" re-remix.
AM:
Is on "The Warning" remix!!
UM:
Yes, It's already done and everything. And the mixing gotta get done, but her vocals is done.
AM:
Do you promise that you will not send it up here, but will you bring the record-
UM:
I will bring it up here personally. Personally.
AM:
Please do that. That is super dope. That's the last person on the planet that I expected-
UM:
And this is the first thing she actually did since she had the babies.
AM:
Yes, no I know! I just saw the other day that she's about to do some big Barbara Walters special, and that was like the first interview that she's done since the babies and she's coming back out. So she's doing Barbara Walters and Uncle Murda!
UM:
That's right.
AM:
You didn't take her to, like, a plush, fancy studio?
UM:
No, actually I asked her, did she want to go to, um, Daddy's house And then she was like, "No, I want to go to your spot! Let's go to your studio." So we went to my studio in the city and we made it happen. She wanted to be in the hood!
Source:
Hot 97
| Transcription: MariahDailyJournal
Mariah Carries 20/20 to Demo Win
Posted by
Lynn
on Saturday, 22-Oct-2011, 4:11PM EDT
Viewers of
20/20
apparently were twin-piqued by Mariah Carey and her babies, leading ABC's newsmagazine to draw 7.6 million total viewers and a night-topping 2.1 demo rating – surging 59 and 75 percent from last Friday.
In total audience, however,
Blue Bloods
(10. mil/1.7) as usual led the night, though dipping a few percentage points.
10 p.m.
CBS: "Blue Bloods" (10.8 million, 6.9/12)
ABC: "20/20" (7.6 million, 5.2/9)
NBC: "Dateline: NBC" (3.9 million, 2.7/5)

18-49 leader: "20/20" (2.1)

Ratings information includes live and same-day DVR viewing. All numbers are preliminary and subject to change.
Download: Mariah on 20/20
Posted by
Lynn
on Saturday, 22-Oct-2011, 10:25AM EDT
In an exclusive interview last night on
20/20
, host Barbara Walters talked with Mariah and husband Nick Cannon about marriage, pregnancy and being the new parents of the now 6-month-old twins Moroccan and Monroe.
Mariah & Nick Interview with Barbara Walters on 20/20
[ Download here ]
Screen Captures:
Check out new and exclusive photos of the adorable twins at the new Mariah Carey site,
DemBabies.com
.
Source: MariahDailyJournal
Mariah on Entertainment TV
Posted by
Lynn
on Saturday, 22-Oct-2011, 9:24AM EDT
From last night's Showbiz Tonight, The Insider, Entertainment Tonight, Extra and E! News.


Source: MariahDailyJournal
Mariah 20/20 Interview Clips on Entertainment Shows
Posted by
Jonny
on Friday, 21-Oct-2011, 3:40PM EDT
Tonight is the moment we have been waiting for! Mariah Carey and Nick Cannon will invite us into their home and reveal their precious twins, Monroe and Morrocan Cannon, for the first time! Please tune in to the following entertainment programs tonight for clips of their 20/20 interview with Barbara Walters in anticipation of tonight's show.

Friday, October 21, 2011
•&nbsp EXTRA - 7:00pm ET/PT, NBC
•&nbsp The Insider - 7:00pm ET/PT, CBS
•&nbsp E! News - 7:00pm ET/PT, E!
•&nbsp Access Hollywood - 7:30pm ET/PT, NBC
•&nbsp Entertainment Tonight - 7:30pm ET/PT, CBS
Source: MariahDailyJournal
More Mariah on 20/20
Posted by
Lynn
on Thursday, 20-Oct-2011, 2:57PM EDT
Watch Barbara Walters' exclusive interview with Mariah Carey and husband Nick Cannon, plus see their babies' faces for the first time, on 20/20 tomorrow (10/21) at 10pm ET/PT.

More preview clips from the 20/20 interview below.


No Post-Birth Beer for Mariah Carey
Posted by
Lynn
on Wednesday, 19-Oct-2011, 3:46PM EDT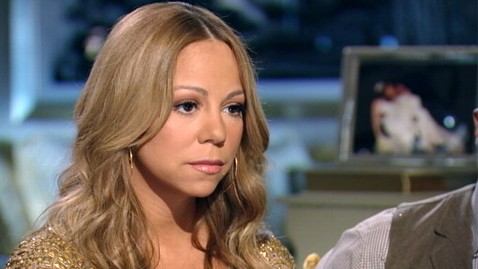 Mariah says that she did not drink a beer after giving birth to her twins.
After giving birth to not just one baby but two, you might excuse a new mom for wanting a drink... but singer Mariah Carey is quashing earlier reports that she had a beer after her twins Moroccan and Monroe were born last spring at a Los Angeles hospital.
The beer allegation prompted the involvement of California Child Protective Services, who, Carey said, investigated whether the babies were subject to "neglect."
"It just doesn't make any sense," Carey told Barbara Walters in an exclusive interview airing on "20/20″ Friday.
Carey said that, at the time, the newborns — who are now six months old — were being cared for in the hospital's neo-natal intensive care unit.
"The babies were in the most protective environment because it's the NICU," she said.
Carey said the beer story started with a suggestion by a nurse who brought the singer a beer, saying it would help improve lactation.
But, Carey said, "I didn't even drink the beer."
Is Mariah Moving to Epic?
Posted by
Lynn
on Wednesday, 19-Oct-2011, 2:33PM EDT
Take these recent tweets from Mariah and new Epic Label Group head Antonio "L.A." Reid.
Is Mariah's "epic surprise" possibly be about a label move from IDJ to Epic? Or are we just reading too much between the lines? Soon, we will find out!
Source: MariahDailyJournal
Mariah on 20/20
Posted by
Lynn
on Wednesday, 19-Oct-2011, 1:34PM EDT
Here's another preview clip from Mariah and Nick's interview with Barbara Walters on 20/20 that's airing this Friday, October 21 at 10pm ET/PT on ABC.


Source: ABC
Justin Bieber Marvels At Mariah Carey Christmas Collab
Posted by
Lynn
on Wednesday, 19-Oct-2011, 1:27PM EDT
As Justin Bieber told MTV News during the live stream that followed the premiere of his "Mistletoe" video, the Busta collaboration is one he'll always remember ... mostly because he considers it to be quite brilliant.

"If you really think about it, it's genius, because it's rapping on a Christmas album ... and, like, I'm rapping on it. And then it's singing," he explained. "It's cool. [Busta's] got, like, a percussive voice to him [and] the beat was so crazy. I'm actually playing drums on that song, playing the snare."

And then, of course, there's his collabo with none other than Mariah Carey, on a version of her instant-classic "All I Want for Christmas Is You." If you thought he was blown away by his Busta team-up, well, you haven't heard anything yet. And he owes it all to none other than Randy Jackson.

"Mariah Carey is doing it with me! It's incredible. So excited," he said of "All I Want." "We wanted Mariah from the beginning, but we kind of thought it was really hard, so we didn't really push the idea. But she's on my label, so we reached out to some people, she got in contact with us, and Randy Jackson was actually at the studio with us, and I was like, 'Yo, you think you can help get Mariah on the Christmas album?' And he was like, 'I'm actually going to see her in New York on Monday,' and I was like 'Yo, go do that!'"
Double Vision of Love
Posted by
Lynn
on Tuesday, 18-Oct-2011, 2:36PM EDT
First Pic: Meet Mariah Carey's Twin Babies, 6 Months!
Nearly six months after their birth, Moroccan and Monroe -- Mariah Carey and Nick Cannon's twin son and daughter -- are ready for their primetime debut.
Mariah and hubby Nick introduced their bundles of joy to Barbara Walters during an intimate visit to their lavish NYC apartment for a 20/20 interview airing this Friday, October 21 at 10pm on ABC.
In a just-released new shot from ABC, Walters bonds with the sweet little boy and girl, born April 30, held by their beaming parents.
Exclusive Mariah & Nick Interview on 20/20
Posted by
Lynn
on Saturday, 15-Oct-2011, 5:41AM EDT
Mariah and Nick recently sat down with Barbara Walters in their New York apartment to discuss Mariah's pregnancy, their marriage, their beautiful baby twins Monroe and Moroccan, and much more!

Tune in to 20/20 on ABC next Friday, October 21st at 10:00pm to watch the exclusive interview including the appearance of DemBabies for the first time ever!

Sneak Preview:


Fans' Corner
Posted by
Jonny
on Friday, 14-Oct-2011, 10:15PM EDT
• Szilvia from Hungary sent in her photos of the European version of Tony Bennett's
Duets II
CD, featuring his duet with Mariah on "When Do The Bells Ring For Me."
• LambTV Brazil threw a party commemorating the one-year anniversary of Mariah's celebrated Barretos concert. Many thanks to Rafa for sharing this video from the festivities:
• Meyer's Grove, a gay bar in St. Louis, Missouri, recently featured Mariah's music during their "Fierce Friday" party. Jose sent us in his review of the festive evening:
It was a very fun nite full of Mariah music. To go through a set list would be naming the entire Mariah catalog including unreleased tracks all the way back to " Weakness Of The Body!!" In between they played interviews the monitors. All the bartenders had cute shirts on with the name of the album on the sleeve and the lead single written around the collar. Lots of lambs in attendance almost everyone knew all the words. Very fun nite :-)
Jose told us that some of the other unreleased tracks played that night included "Do You Think of Me" and "Slipping Away." Below are photos from the party, including bartenders sporting their respective "Loverboy," "Heartbreaker" and "Honey" t-shirts.
• Josh from Brooklyn, New York recently held a party to celebrate the 10th anniversary of "Glitter." As part of the festivities, he dressed up as Mariah in one of his favorite videos, "Loverboy."
• Osama was inspired to make a t-shirt based on the well-known lyric from the "Fantasy" Remix:
• Neil from the Philippines sent us his pip design of Mariah featuring many of her song titles from throughout the years.
Source: Szilvia | Rafa | Jose | Josh | Osama | Neil
Back to Mariah's
Posted by
Lynn
on Thursday, 13-Oct-2011, 3:33PM EDT
Mariah Carey and Nick Cannon were so taken with classical guitarist Nilko Andreas after his performance during their dinner that they invited Andreas back to their downtown loft for a late recording session.

Carey and Cannon had dinner at Tolani, the supper club at TriBeCa's Theater Bar, while Colombian-born Andreas performed with his band. Afterward, the celebrity couple went backstage and invited Andreas and his band back to their house for a private jam session.
HSN Cares Mariah Carey 2011 Heart Ornament
Posted by
Jonny
on Thursday, 13-Oct-2011, 12:01AM EDT
Mariah has designed a beautiful holiday tree ornament exclusively for HSN, to benefit the St. Jude's Research Hospital. Quantities are limited, so hurry over to
HSN
to buy yours. At $14.95 each, 100% of the profits will go to HSN Cares, the network's commitment to raise awareness and funds for trusted organizations that support local, national and global causes.
Interested in adding a pretty winged creature to your holiday decor? Try this beautiful ornament featuring goldtone glitter surrounding a pretty butterfly that's sure to draw admirers. Designed by Mariah Carey, this stunning orb is hand-painted in a matte satin finish and studded with Swarovski Elements, topped by blue and pink bows. What a great way to add an element of fashion to your holiday decor, while supporting a worthy cause this season.
What You Get
• Ornament
• Red gift box with sateen lining
HSN Cares Mariah Carey 2011 Heart Ornament Features
• Limited Edition: 400, numbered
• Designed by Mariah Carey with her signature imprint on each ornament
• Handcrafted
• Opaque glass ball shape embellished with goldtone glittered scrollwork and butterfly design on one side
• Silvertone ornament cap
• Double pink and blue bows
• Attached blue ribbon loop; ready to hang right out of the box
• Try it on a wreath, a garland or a centerpiece
• Lightweight; tree branches don't sag
• Gift box lets you just bow and go
• Proceeds benefit the St. Jude Children's Research Hospital
• HSN Exclusive
Da Brat Plots Comeback With Mariah Carey
Posted by
Jonny
on Wednesday, 12-Oct-2011, 9:57PM EDT
Da Brat was only released from prison in February but she is already planning her career comeback. During a red carpet interview with The Jasmine Brand at the 2011 BET Hip-Hop Awards, the rap icon spoke about her upcoming projects, which include a collaboration with diva Mariah Carey.

However, this won't be the first song that Da Brat will pen for Carey. She also contributed several verses to her close friend's remixes, such as "Always Be My Baby (Ft. Xscape)" and co-wrote "OOC" from the E=MC2 album.

Carey has already launched the recording process of her new LP alongside Jermaine Dupri. She will also appear on Justin Bieber's upcoming "Under the Mistletoe" Christmas record with a new version of her classic "All I Want For Christmas Is You."

Hear what Da Brat had to say below.





With both women keenly focused on rebuilding their respective careers, a collaboration between Da Brat and Carey has the potential to be a major success. Besides, the pair have several life experiences to share with the world and the writing skills to craft a hit.
Greatest Song Of The '00s: What SHOULD It Have Been?
Posted by
Lynn
on Wednesday, 12-Oct-2011, 9:42AM EDT
If you tuned in to VH1's five-day
100 Greatest Songs of the '00s
countdown last week, you already know that pre-preggers Beyonce took home the #1 spot with hubby-featured smash, "Crazy In Love." Good for them, right? The collabo is over eight years old, and still carries with it a sense of sonic recognition that might one day be categorized as "timeless."
If you ask VH1 countdown's pundits, however, there is a wide range of respectfully-dissenting opinions on what video
should have been
#1. Tim and Damian from OK Go suggested that Gnarls Barkley's "Crazy" should have earned the coveted slot, our former colleague Rich Juzwiak was vying for Mariah Carey's "We Belong Together," and a number of other commentators from the show made arguments for OutKast, Kelly Clarkson, and Eminem.
Take the VH1 poll
and let them know that "We Belong Together" should have been crowned THE Greatest Song of the '00s in their comments section!
Nick on The Talk: 'Mariah is a Diva'
Posted by
Lynn
on Sunday, 09-Oct-2011, 11:06PM EDT
We live a in a world where the word DIVA is a compliment, something to aspire to be. In order to be a DIVA one must have the attitude, the over-the-top character and finally the resources.

Nick Cannon tells the ladies of The Talk that his wife is an absolute Diva! The last time Nick was on The Talk was two days before the birth of the twins. Julie asked if the birth was a big "production" like she hoped it would be. Nick realized that he was merely the Production Manager during the birth ceremony of his twins. Nick had a camera in one hand and adjusted the lights with the other hand. Mariah previously told Nick to make sure the lighting was good. That wasn't the only instruction Nick received.




The biggest responsibility that Nick had during the birth was to play DJ. Mariah wanted the twins to be born to a certain song being played in the background. The song Mariah picked was the Live version of Fantasy Live in Madison Square Garden because Mariah wanted the babies to come out to Applause! Hours after the birth of the twins, Mariah was in a full gown and makeup so that her and Nick could renew their vows. Now that is a DIVA with little Divas in the making. Nick calls Mariah his Dream Girl.
Mariah and the Greatest Holiday Song Ever Recorded
Posted by
Lynn
on Saturday, 08-Oct-2011, 11:10AM EDT
Like Nat King Cole, Elvis Presley, and Jewel before him, Justin Bieber is putting out a Christmas album this holiday season. It's called
Under the Mistletoe
, and while that title suggests that it should be a bunch of gingerbread-fueled Yuletide slow jams, it almost certainly won't be that.
Still, it should be a little livelier than your usual rocking around the tree. The
15 tracks on Mistletoe
are both originals and traditional tunes, and there are a bunch of drop-ins from big stars, including Usher, Boyz II Men, and Busta Rhymes (who we hope will battle rap Shawty Mane on a track called "Drummer Boy").
But the biggest headline is the presence of Mariah Carey, who will perform a duet with Bieber on "All I Want For Christmas Is You."
The tune, which appeared on Carey's own 1994 Christmas album
Merry Christmas
, is one of her biggest hits (it made
Merry Christmas
the third best-selling Christmas album of all time) and also happens to be the best holiday song ever written.
It has
everything
: A great hook, an incredible vocal performance by Carey, a festive vibe, and that great video where she frolics in the snow. It's indestructible, and it should make you want to trim a tree or roast chestnuts or whatever you do to celebrate the season.
Will Bieber be able to improve on the perfection of "All I Want For Christmas Is You"?
"We Belong Together" #9 on VH1's Greatest Songs of '00s
Posted by
Lynn
on Saturday, 08-Oct-2011, 5:06AM EDT
Earlier tonight, VH1 aired the final installment of its
100 Greatest Songs of the '00s
countdown with Beyoncé's "Crazy In Love" featuring Jay-Z topping the list; and Mariah's Billboard-declared
Song of the Decade
, "We Belong Together," landing only at No. 9.
TOP 10
VH1's 100 Greatest Songs of the '00s
[View the complete list
here
]
1.Beyoncé featuring Jay-Z, "Crazy in Love"
2.OutKast, "Hey Ya!"
3.Lady Gaga, "Poker Face"
4.Eminem, "Lose Yourself"
5.Kelly Clarkson, "Since U Been Gone"
6.Kanye West featuring Jamie Foxx, "Gold Digger"
7.Justin Timberlake featuring Timbaland, "SexyBack"
8.Jay-Z featuring Alicia Keys, "Empire State of Mind"
9.Mariah Carey, "We Belong Together"
10.50 Cent, "In Da Club"

[ Download this video ]
Source: MariahDailyJournal
Mariah Recording in NYC with DJ Suss One & Uncle Murda
Posted by
Jonny
on Friday, 07-Oct-2011, 9:15AM EDT
Last night,
Nick Cannon
tweeted a photo of himself with Mariah and rapper Uncle Murda out and about in NYC:
Meanwhile, DJ Suss One revealed on his
Twitter
that he and Mariah were in the studio working on new material along with Uncle Murda!
Riding around NYC with @MariahCarey bout to go to the studio!! She's such a GREAT mom.....just checked on her kids and now bout to work #GOIn the studio with @MariahCarey & @unclemurda!! #GOOOOOOOOO
Mariah Mentions on TV
Posted by
Lynn
on Thursday, 06-Oct-2011, 6:38AM EDT
From tonight's Showbiz Tonight and Extra.


Source: MariahDailyJournal
Mariah Records Christmas Duet with Justin Bieber
Posted by
Lynn
on Wednesday, 05-Oct-2011, 8:46AM EDT
Mariah has confirmed her collaboration with Justin Bieber on a duet of her best-selling classic holiday song, "All I Want For Christmas Is You" in an official announcement via twitvid earlier tonight.

"What's up? I'm Mariah Carey. I am here today to tell you a little secret. Justin and I are doing this duet together. It is my song 'All I Want for Christmas Is You' which I wrote and produced. And I'm very excited about it. Really excited. I think a lot of you are already very surprised by this and you're going to be even more surprised when you hear it. The song sounds great. I'm very excited for everybody to hear it this Christmas and to be totally festive with our festive collabo."
The song will be included on Justin's holiday album
Under The Mistletoe
that's out in stores Tuesday, November 1st.
Source: Mariah on Twitter | Justin Bieber's Twitvid
Michael Bublé Covers Mariah's Classic Christmas Song
Posted by
Lynn
on Tuesday, 04-Oct-2011, 9:45PM EDT
The video clip below shows crooner Michael Bublé in the studio recording his own take of Mariah's top-selling classic holiday staple, "All I Want For Christmas Is You." The song will be one of the 15 holiday songs included on his new album, simply called Christmas, that's due out in stores on Monday, October 24th.


Mariah To Appear on Justin Beiber's Christmas Album?
Posted by
Jonny
on Monday, 03-Oct-2011, 11:37AM EDT
Justin Bieber is more than excited to release his Christmas album. He worked hard on the songs and has tons of artists featured including Boyz II Men and The Band Perry, but one rumored artist is getting some extra attention today.

"One of [Justin's] dancers actually tweeted that [he] has finished a track with an artist of a different status," Perez Hilton reports. That artist would be Mariah Carey! Of course MC has one of the best Christmas albums ever and her ever-popular holiday songs are part of many music repertoires around the world. If she did collaborate with The Biebs, you can expect it to be epic!

There has not been any direct confirmation that Carey joined Justin Bieber in the studio, but Justin's dancer is assuring fans that the duet totally happened! "Had to tweet that cause apparently people didn't believe me. Haha Justin Bieber featuring Mariah Carey. Believe it (sic)," he tweeted.

No hints as to what song they recorded (if it was traditional or new), but fans are very excited to hear it. Don't forget, that some of the money raised in album sales will be donated to charity. It's a win-win so be sure to pick up Under the Mistletoe next month.

(MDJ Note: This information has not been confirmed by either Mariah's team nor Justin Beiber's team.)
Mariah: Five Octaves In One Minute!
Posted by
Jonny
on Saturday, 01-Oct-2011, 12:01AM EDT
It's no secret that Mariah Carey has range, but that's just become even more apparent: A clever video has surfaced on YouTube that splices together Mimi singing through what the video claims are five octaves, two notes, and two semitones.

"That's over 65 keys!!!!" the video says at the end. You knew she could do it, but actually hearing her go from low to high in a cascade - with each note flashing on the screen as it happens, each about one second apart 0 - is pretty stunning.

Through the video, you can identify a variety of Mariah's songs in the background - everything from her soaring rendition of "O Holy Night" to "Forever" - although a huge portion of it is pulled from her two notable Christmas albums. (Go figure.)

If you don't already appreciate the range Mariah has, you will after the jump:


Online Users
ON THE COVER »

---





UPCOMING EVENTS »

---

April 27, 2015
New Single Release: "Infinity"

#1's Kickoff Event
Caesars Palace - Las Vegas, NV

May 6, 2015
#1's Opening Night
Caesars Palace - Las Vegas, NV

May 18, 2015
#1 To Infinity CD Release

July 8, 2015
#1's July leg begins
Caesars Palace - Las Vegas, NV

August 28, 2015
#1 To Infinity Vinyl Release

ON THE TUBE »

---

Sunday, May 17, 2015

Billboard Music Awards

8 pm ET/PT -- ABC

Monday, May 18, 2015Ellen

Syndicated - Click

here

to check local listings.

Jimmy Kimmel Live

11:35 pm ET/PT -- ABC

Friday, May 22, 2015Live With Kelly & Michael

9 am ET/PT -- ABC