September 2011
Puppy Love: Mariah Walks Dem Doggies
Posted by
Jonny
on Friday, 30-Sep-2011, 7:36PM EDT
HQ Photos: Mariah in NYC
Posted by
Lynn
on Thursday, 29-Sep-2011, 9:52AM EDT
Source: MariahDailyJournal
Tony Bennett Scores His First #1 Album on Billboard 200
Posted by
Lynn
on Wednesday, 28-Sep-2011, 8:54PM EDT
Tony Bennett's 85th birthday was last month, but the legendary crooner got a major belated gift this week when his album "Duets II" took the top spot on the Billboard 200 chart.

The disc, which pairs the singer with some of music's biggest players, including Lady Gaga, Mariah Carey, Norah Jones, John Mayer, Aretha Franklin and Carrie Underwood, bowed at No. 1 after logging 179,000 copies, according to Nielsen SoundScan.

Bennett, a 14-time Grammy Award winner, made history as the oldest living artist to hit No. 1. He's also the oldest living artist to hit the Billboard Hot 100 chart after his duet with the late Amy Winehouse, "Body and Soul," debuted on the chart.

Bennett pushed Lady Antebellum to No. 2 as its "Own the Night" sold an additional 125,000 copies, while Adele's "21" maintained its staying power by clutching onto the No. 3 spot.

Other notable chart debuts include Demi Lovato's post-rehab disc, "Unbroken," opening at No. 4 with 96,000 copies sold, teeny boppers Mindless Behavior entering at No. 7 with their debut, "#1 Girl," and the soundtrack to Cameron Crowe's "Pearl Jam Twenty," which features rarities and unreleased tracks from the grunge rockers. It rounded out the top 10 after selling 27,000 units.
Photos: Tony Bennett's Duets II CD
Posted by
Jonny
on Tuesday, 27-Sep-2011, 7:43PM EDT
Source: Laura
Mariah & JD Recording Together Again
Posted by
Jonny
on Sunday, 25-Sep-2011, 10:34PM EDT
Earlier today, Jermaine Dupri took to his social network Global14 to reveal two new photos of himself and Mariah in the recording studio with the following caption: ME AND MC IN THE STUDIO RIGHT NOW, (WE ARE BACK TOGETHER).
Mariah also tweeted one of the photos and said "so happy to be back in the studio with the one & only @Mr_Dupri aka Jermash!"
Sound Engineer Phil Tan on Mariah's "Top Secret" Mic
Posted by
Jonny
on Sunday, 25-Sep-2011, 4:19PM EDT
Famed sound engineer Phil Tan recently sat down to talk to
Universal Audio
about his work over the past decade with artists from The Neptunes and Outkast to Rhianna, Katy Perry and Mariah Carey. Phil had some very specific technical details to share about recording with Mariah while she was with Columbia Records:
UA:
So vocals are obviously the centerpiece in R&B mixing. What's the typical vocal chain for recording artists like Usher and Mariah Carey?
PT:
I'm going to give you a very long-winded answer. When Mariah was signed to Columbia records, when she was still with the Sony label, she had a very specific setup made for her. It was the Sony C-800, but I think it was specifically modified for her by the Sony technicians. So it's a one-of-a-kind Sony mic. And she had this special "top secret" travel case of like a mic preamp, EQ and compressor, but it had no labels on it. I didn't know what it was when I first saw it. And it had an A-to-D converter that went straight to the PCM 3348, a Sony tape machine at the time. So Mariah had basically her own, proprietary vocal chain for all recordings.
UA:
So hip-hop music is obviously so much about the low end. But your mixes seem to find ways to fit a lot more into it. So pretend someone has never mixed hip-hop. How does it differ? How do you start your mix? Do you pull the kick up and then craft everything around the giant kick?
PT:
Well, you're probably not going to like this answer, but it all depends. Everything is a case-by-case thing. And I don't necessarily have a rule as to how I go about things. Mainly because I don't want myself to get bored or stale.
Most of the time, I don't get to hear a record until it's in front of me ready to be mixed. So what I try to do is just leave an open mind and say, "OK, well, I'm listening to this right now for the first time. I'm going to form my opinions and let the music tell me what it may need."
But generally, if it's a very vocal-driven song, like a Mariah, I would probably actually start with her vocal first, and then everything else kind of goes around it. With rap stuff, the drums, more often than not, will be the first things I deal with.
Mariah Answers Fan Questions on Google+
Posted by
Jonny
on Saturday, 24-Sep-2011, 10:28AM EDT
Mariah took time last night to answer some fan questions via her Google+ profile:

Lisa Davison - hows the twins and your lil family doin?

MC - The twins are great, they're so much fun. I will be talking about them in an interview soon..! Thanks for asking Lisa!

shirley lo - what's your idea of a perfect day? :)

MC - A perfect day... your location is a sunny beach in the Bahamas perhaps or in the Mediterranean coast, and upon waking in the afternoon, you decide to skip breakfast and go into the ocean after your mimosa! Then you slide down the water slide which is naturally there on your yacht!! You swim in the water for a little bit, have fun... maybe some dolphins swim by! You swim until you get tired and laugh with your friends and family (in my case that would be the lambily!) until the evening!

Lucas Pereira - Hey Mimi, I'm from Brazil and I love you <3, my question is: How was recording with Tony Bennett? pls answer me, dahhhling! haha.

MC - Hii thank you so much. LYM! Recording with Tony was an honor and an educational moment for me because he is legendary and I learned so much from the way he records, right off the cuff!

Kathryn Krastin - So admire you +Mariah Carey. Just wondering what's next for you? What will you conquer next? Keep the faith going. You ARE phenomenally amazing!!

MC - Thank you so much, that's very sweet of you. I'm working on new music right now which I'm very excited about and I have other creative endeavors coming up as well!

Toby Horn - Are you involved with any organizations that we might be interested in joining or helping?

MC - Camp Mariah is the one closest to my heart. It is a career awareness camp for 600 kids every summer and they learn about different career opportunities as well as having fun experiencing the beautiful natural surroundings of upstate New York.

SARAH OWENS - hi, mc! are you gonna show us #dembabies sometime soon? happy almost 5 months to roc & roe! - <3 sarah (original lamb since 1990!)

MC - We're trying to figure out a way to do it but it's a delicate situation. We want to share the pictures with the world because they're our children and we're very proud of them but we just have to be very aware of how we do it. It will probably be on the internet as opposed to a tabloid or something!

Christine Gwasda - hi mariah!! how are you?! so i have a girly question for you- what's your favorite nail color of the moment? (these things are important! lol) hope you are doin fabulous! see u soon xxoo, Christine

MC - Hey Christine, thank you for the nice question! I saw a brand new nail color by Chanel that's like a cantaloupe color and it was pretty!! but right now I'm feeling this color that I found.. it is black yet platinum! Say hi to Kelly!

Rafael Monaco - Will you perform "Can't Take That Away" again? I realy love this song!

MC - Thank you, I was thinking about doing that song again! I was recently listening to the triumphant remix... "there's a light that shines in me..." (singing!!!)

Ash Chopra - Now with two smashing stone groove Christmas albums under your belt, will we finally see a Christmas musical/pantomine?

MC - Hi Ash, thanks for the question! All I can say is... you'll find out soon!

Tre Greaves - How's life as a new mom? and how has it changed your outlook on the way you view life and your music? :)

MC - Very challenging! It's changed my outlook on life in so many ways. I really love my babies Roc+ Monroe so much it is indescribable.

MC- Thank you so much for all your questions!! I'm very excited about my upcoming projects and I have enjoyed you all very much. L-Y-M!!!!

20 Albums At 20: Emotions
Posted by
Jonny
on Saturday, 24-Sep-2011, 10:05AM EDT
Twenty years ago, the world rocked a lot harder than it does today. Back then, grunge started its smack down of the mainstream, driven by pivotal CDs like "Nevermind" and "Ten." Gangsta rap spread wider and started to outrage the mainstream, via N.W.A. and Ice T. And heavy metal found a new pride with the continued reign of Guns 'N Roses.
At the same time, tame stuff had a significant impact as well. Mainstream stars Mariah Carey, Michael Jackson, Michael Bolton, and Amy Grant saw some of their sales peaks. Here's a look at 20 albums that shook the world - discs which, for better or worse, will forever define their time.
Mariah Carey "Emotions"
(Sept. 17th, 1991)
Mariah Carey's second album didn't have the massive impact of her debut, but it still sold over 3 million copies and expanded the singer's sound, mixing more classic pop into her slick '90s mix. The disc's most enduring single remains the title track, which boasts a '70s feel. The album also produced one of Carey's most danceable tracks, "Make It Happen" (co-written with Robert Clivilles and David Cole of C&C Music Factory fame). Another song saw Carey collaborating with Carole King ("If It's Over").
New Pepsi Ad Revisits Commercials From Mariah & More
Posted by
Jonny
on Thursday, 22-Sep-2011, 7:55PM EDT
Pepsi has just released a brand-new commercial, and this time around they aren't recruiting any new stars to appear in their advertisements. Instead, Pepsi has compiled some of their most memorable commercials to create one monster of a Pepsi montage. The all-new Pepsi ad features classic commercials from the soft drink giants, featuring cameos from Michael Jackson, Britney Spears, Mariah Carey, Kanye West, and crooner/pianist Ray Charles.

The commercial opens with a guy swigging back a can of Pepsi backstage at a concert. As he takes a sip, he looks at the Pepsi logo and we are thrown into the montage of vintage ads as an upbeat song plays. The Michael Jackson commercials may be the most recognizable, as the King of Pop dances around in sparkly socks while later doing his famous kick-and-twirl in a sequined jacket and fedora.

Britney Spears also shows up for the Pepsi party, catapulting fans back to her heydey as a teenage superstar. Clips from her sexy commercial where she sings the "Joy of Pepsi" jingle in a warehouse, wearing a midriff top, jeans and a Pepsi logo bellybutton ring. She later shows up on a rooftop doing dance moves a la her "(You Drive Me) Crazy" video in front of a giant illuminated Pepsi sign.

Mariah Carey and Kanye West also appear in the commercial, with Carey looking like a divalicious angel from heaven and West leaving a stream of Pepsi's signature colors behind him. Ray Charles also shows up, singing in front of a piano with a bevy of beauties behind him.

Get ready for some serious nostalgia as you watch this ad!


Mariah Carey Explains Picket Line Dilemma
Posted by
Jonny
on Thursday, 22-Sep-2011, 7:30PM EDT
Mariah Carey is adamant she did not intentionally cross a picket line while dining out with her husband in New York over the weekend, insisting she has "nothing but respect for those in the struggle."

The singer and her partner Nick Cannon walked past striking restaurant workers on Sunday to eat at the Central Park Boathouse in Manhattan, and the famous couple endured jeers and boos from the crowd, who shouted "Shame on you!" at the pair.

Carey has now taken to Twitter to explain herself and express sympathies to the striking workers, who staged the walk-out as part of a contract dispute.

She writes, Ok - obviously we didn't purposely dine at a restaurant w/a (with a) picket line... And clearly the issues the picketers are dealing with are issues we would never try to over look... So when you see a "video" of me walking thru (through) a bunch of picketers as they say 'Shhhhaaame on yoooou' please understand - we respect... All people and have nothing but respect for those in the struggle.
"When Do The Bells Ring For Me" Out Today!
Posted by
Jonny
on Tuesday, 20-Sep-2011, 8:00PM EDT
"When Do The Bells Ring For Me," Mariah's timeless duet with timeless singer Tony Bennett, is now available! The pairing of two music legends from two generations is being celebrated:

"When Do The Bells Ring For Me" is... a light, romantic ballad which perfectly caters to both Mariah and Tony's vocal strengths... We can assume that the light and airy tone we get on this record was a conscious effort to match Tony's classic croon... Mariah sounds like a classically trained Broadway vocalist on the track." -MTV

Mariah Carey [shows] unusual restraint on "When Do the Bells Ring For Me." -Associated Press

Mariah Carey brings the soul on "When Do The Bells Ring For Me." -US Magazine

Mariah Carey's part on "When Do the Bells Ring For Me" should make the new mother of twins want to record her own album of standards and get away from hip-hop for good. -Showbiz 411

"She's just so talented... During the session, recorded when she was close to giving birth to a set of twins, I kept kidding her that our record was more than just a duet because I was actually recording with three people! And let me just say that she knocked that performance right out of ballpark. She was sensational." -Tony Bennett

You can now find "Where Do The Bells Ring For Me" on Tony Bennett's new album, Duets II:


Joan Collins: Mariah Carey Looks "Perfect"
Posted by
Jonny
on Tuesday, 20-Sep-2011, 7:06PM EDT
Joan Collins thinks Rihanna, Beyoncé Knowles and Mariah Carey look "perfect".

The 78-year-old is famous for her signature look of bright red lipstick and large shoulder pads. Joan has kept this style ever since she played the role of Alexis on 80s TV show Dynasty.

The actress and novelist has complimented some of the women she thinks dress well in show business today.

"Rihanna is always exquisitely dressed," Joan told the British edition of OK! magazine, "and so are Beyoncé and Mariah Carey - I think those girls look perfect."

However, Joan also hinted that some of music's more extravagant icons aren't always to her taste. Lady Gaga's famous meat dress and colourful wigs were are "not quite [Joan's] scene."

The glamorous star also revealed she doesn't spend much time getting ready. Joan has perfected her beauty routine over the years and it now takes her under half an hour to do her hair and make-up.

"I have a hairstyle that's just wash and go really," she confessed "I put make-up on very fast, that's why we call it slap in the business! It's usually just moisturiser, base, powder, lipstick and sunglasses."
Cowell Confirms Mariah's Involvement on X-Factor
Posted by
Lynn
on Tuesday, 20-Sep-2011, 5:06PM EDT
Simon Cowell says...
"She wants to be and I've met her and I've spoken to her several times. She was going to be on my section of the show where we invite the contestants to your house and then selfishly there was a hurricane, so she couldn't come. But, I think that she, I think she wants to be a part of the live shows and we've got to work out how we do that. But you can't say no to Mariah, I've learned that."
Power Walk
Posted by
Lynn
on Tuesday, 20-Sep-2011, 10:26AM EDT
Mariah Carey continues to shed the baby weight, this time trading in her canine personal trainers for a human one (not pictured) during a workout Monday in New York City.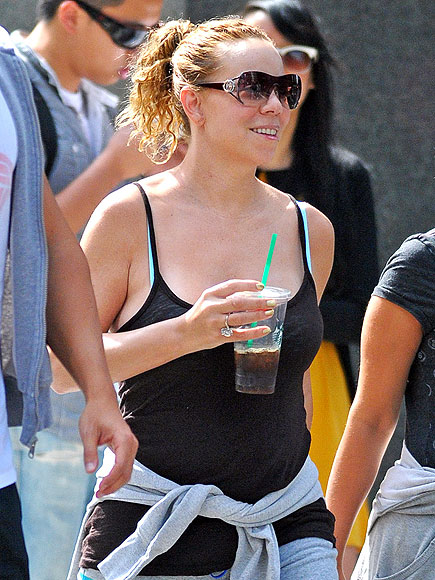 More photos of Mariah below courtesy of
Spletnik
. Thanks Joao!
Cowell: "Someone Bigger" To Replace Mariah on X-Factor?
Posted by
Jonny
on Sunday, 18-Sep-2011, 7:25PM EDT
Less than a week before X-Factor makes its season debut on Fox, entertainment reporter Julie Chang of Good Day New York (weekdays, 9AM ET on Fox) caught up with Simon Cowell at the show's red carpet premiere event. Cowell compared the experience of starting on a new show to his beginnings with American Idol and revealed a celebrity judge.

Chang said Cowell looked "like a new man," and asked him if he had more invested in the new show, since its one he had created. "Well, it's like starting all over again," he said. "When I came here ten years ago, it was a similar feeling. I had no idea what was going to happen. But I did like the show. And this is kind of the same feeling. It's a different show. I've enjoyed it. I don't know what's going to happen. So it's exciting."

Chang also overhead other interviews in which Cowell said Rihanna will be a guest judge, which Cowell confirmed. It was supposed to be Mariah Carey, but circumstances conspired against her. "She couldn't judge because of the hurricane, but I found someone bigger," he said. Hopefully he wasn't planning on asking Carey back.
Primary Wave and Violator Merge
Posted by
Jonny
on Sunday, 18-Sep-2011, 12:24AM EDT
The new company will represent 20 artists including Mariah Carey, Soulja Boy, 50 Cent, Diddy and Cee Lo Green. Primary Wave's Larry Mestel will serve as CEO while Violator's Chris Lighty is named chief operating officer.

In a move to build a powerhouse management company, Primary Wave Talent Management and Chris Lighty's Violator Management are merging to form Primary Violator.

The merged company will be headed by Primary Wave Music founder and CEO Larry Mestel who will be chairman and CEO of the merged company'; founder and CEO Violator Lighty will be chief operating officer; and Primary Wave Talent Management president Michael "Blue" Williams will be president. News of the merger was first reported in the New York Post.

The merged company will have a staff of 42 employees to manage a roster of about 20 artists which includes Mariah Carey, Soulja Boy, 50 Cent, L.L. Cool J, Busta Rhymes, and Diddy, all currently handled by Violator according to that company's website; while Primary Wave Talent Management brings to the deal Cee Lo Green, Ginuwine, Goodie Mob, and Eric Benet among others.

Primary Wave had waded heavily into artist management prior to the new merger, having cut deals to bring such management talent as rock manager Scott Frazier, who works with bands like Saving Abel and Volbeat; writer/producer manager Tom Maffei, who manages Brian Kennedy and Cam Meekins; manager Jerry Blair, who manages Ebony Bones, Glory For The People, and Alex Young; as well as partnering with music managers David and Winston Simone, who work with Wilson Phillips, into the Primary Wave Management fold. While those deals will remain separate from the Primary Wave Talent Management, the company will look for ways to work synergistically between their various management deals.

The plan is to further build the Primary Wave Talent Management roster by trying to lure artists away from management situations were they are "underserved," according to Mestel. "We will take a very aggressive no holds bar stance when it comes to go after artists," Mestel Says. "Chris, Blue and I will make sure everyone knows we are in business and will be very aggressive" in luring name talent to the merged company. "We will provides services that are not being provided elsewhere," he says.

As record labels struggle with the downturn in music sales by downsizing their staffs, management companies have had to step up and fill the void by the labels inability to maintain the save level of marketing services that they previously had when music sales were healthy.

Primary Wave feels it has an edge to offer artists in that area, Mestel says. Primary Violator will provide an array of services for artists allowing them to access its in-house branding company Brand Synergy Group, digital marketing company BrightShop, Lighty's Brand Asset Group, as well as using Primary Wave's in-house film, television, video game, commercial advertising and TV development team.

While the initial roster is urban and pop heavy, Mestel says the company will diversify into handling artists in other genres too.
EW: Tony the Great
Posted by
Jonny
on Saturday, 17-Sep-2011, 8:22PM EDT
Tony Bennett wanted to help Amy Winehouse. The 85-year old legend had heard that the troubled chanteuse was struggling with substance abuse, and after recording the jazz standard "Body and Soul" with her for his new disc
Tony Bennett Duets II
(out Sept. 20), he considered her a friend. Knowing he'd see her at his birthday celebration at London's Palladium in October, he planned to have a talk with her then.
Sitting in his art studio in Manhattan, surrounded by his own paintings of landscapes and still lifes, Bennett recalls what he intended to say. "I was going to sit her down," he says, gazing sadly out the window at Central Park. "I was going to tell her, 'It's going to kill you if you don't stop.'"
He never got the chance. "Body and Soul" would be the last recording for Winehouse, who passed away in July from still-undeterminded causes. It's easy to understand why Bennett felt he might be able to save her. Back in 1979, when his music had fallen out of favor and the IRS started proceedings to take away his home, he nearly over-dosed on cocaine.
Realizing that he had to pull his life together, he called his son Danny for help, and the younger Bennett became his dad's manager, eventually reigniting his career with 1994's
MTV Unplugged: Tony Bennett"
and 2006's
Duets: An American Classic
, which found him collaborating with the likes of Bono, Paul McCartney, and Dixie Chicks. Now Bennett, happily married to third wife Susan Crow since 2007, can't walk down the street without earning a shout from every doorman he passes: "Hey Ton-ay!" "Lookin' sharp, Mr. Bennett!" "Is that Tony Bennett? My mother would die." Smartly dressed even on a sweltering summer day, he's the same old-fashioned gentleman he's always been. (Once, after being roused from his hotel bed by an earthquake, he famously changed into a three-piece suit before evacuating.) And on
Duets II
, he's still got the chops to sing the classics alongside Lady Gaga ("The Lady Is a Tramp"), Norah Jones ("Speak Low"), Mariah Carey ("When Do The Bells Ring For Me"), and Michael Buble ("Don't Get Around Much Anymore"). "[My] teacher used to say that one of the most important things about being a great singer was that your voice is unmistakable," Buble tells EW. "And his voice, you know- it's Tony Bennett. No one else even sounds close."
If Bennett is the vintage crooner who's hip enough for the kids, he's also held that title longer than most. In the '50s, he got nascent rock & roll fans to appreciate the Great American Songboo, and he made it feel rebellious in the counterculture '60s to listen to standards again. In August, he was seated next to Lady Gaga at MTV's Video Music Awards. "She showed up as a boy!" he says, laughing. "That was so great."
But at heart, Bennett remains a traditional guy. This spring, he visited his father's hometown of Podargoni, Italy: "I stood in the exact sport my father did. It was a cloudy day, and when I sang 'O Sole Mio,' the clouds went away and the sun hit me. Unbelievable!" He smiles. "When people say that that's old music, that's incorrect. It's never gonna die."
Duets II
, featuring Bennett's duet with Mariah, "When Do The Bells Ring For Me," will be available for purchase on Tuesday, September 20:
Source: MariahDailyJournal | Entertainment Weekly
Baby Monroe Grows First Tooth
Posted by
Jonny
on Thursday, 15-Sep-2011, 7:10PM EDT
Nick Cannon recently spoke with
Hip Hollywood
and revealed that baby Monroe has grown her first tooth!
Nick Cannon:
"My daughter got a tooth! Her first tooth got popped out. So, but other than that, [the twins are] good. They're healthy, they're growing personalities, it's crazy! It's cool."
Hip Hollywood:
"How's Mama doing?"
NC:
"She's wonderful. She's amazing. I mean, she's getting back right. You know, focused to come out and shock the world."
HH:
"The kids are growing up, but thus far, what's been the coolest thing about being a father?"
NC:
"Just when they recognize you and they smile, and they know.. you know, there's no feeling like that. When you walk into a room, they're just happy to see you. It's unconditional love. It's beautiful."
Nick: Twins Will "Absolutely Not" Have Showbiz Careers
Posted by
Jonny
on Thursday, 15-Sep-2011, 5:26PM EDT
Nick Cannon wants to keep the number of celebrities in his household to a minimum.

The America's Got Talent host, 30, says he will "absolutely not" let his 4˝-month-old twins, Moroccan and Monroe, follow in the famous footsteps of him and wife Mariah Carey.

"I just want them to strive for something greater than entertainment," Cannon told PEOPLE backstage after Wednesday's AGT's season finale. "I'm one of those believers in teachers, professors, heart surgeons. That's what I'm rooting for. If I could get a scientist, that'd be amazing."

Even though fame isn't the path Cannon wants his children to take, he says it's the right road for him and Carey.

"My wife is so understanding because she's just as busy and just as focused as I am, so it's kind of like the perfect match," he says. "I love my career and I love being in entertainment, so it never really feels like an occupation."

Still, Hollywood isn't top priority for Cannon. "Being a father and being a husband comes first," he says.

"Everybody knows I'm obsessed with my wife," he gushes. "I'm married to Mariah Carey. It doesn't get better than that. I'd be an idiot to do anything wrong. I worship my wife. Have you seen my back? My back says 'Mariah Forever.' "
NPR Exclusively Debuts "When Do The Bells Ring For Me"
Posted by
Jonny
on Wednesday, 14-Sep-2011, 5:07PM EDT
National Public Radio is offering listeners an exclusive listen to "When Do The Bells Ring For Me," Mariah's duet with legendary crooner Tony Bennett from his upcoming album, "Duets II."
Visit the
NPR website
to stream the song in full, and be sure to buy your copy of "Duets II" when it is released on Tuesday, September 20:
Music Box is now certified 12x Platinum in Australia
Posted by
Michael
on Sunday, 11-Sep-2011, 8:28PM EDT
According to the ARIA (Australian Recording Industry Association), "Music Box" has been re-certified 12x Platinum for a shipment of 840,000 units in Australia after receiving its last certification more than 14 years ago.


Source: MariahDailyJournal | ARIA Accreditations
Bieber Takes On Queen Of Christmas Mariah Carey
Posted by
Lynn
on Friday, 02-Sep-2011, 6:07PM EDT
VMA winner Justin Bieber is a young guy, so he might not be aware that by producing an entirely original Christmas album he is stepping into an arena dominated almost exclusively by one of pop's biggest divas, Santa's Helper outfit enthusiast Mariah Carey.

For all intents and purposes, Mariah Carey is the unofficial Queen of Christmas. She wears Santa hats in public (and has miniature ones on her dogs), puts together holiday music spectaculars and usually celebrates the holiday with a lavish vacation in Aspen. A Google search of "Mariah Carey Christmas" returns over 45 million results and the video for her 1994 single "All I Want For Christmas Is You" has over 28 million views on YouTube.

The pop star has released two Christmas albums, 1994's Merry Christmas and last year's Merry Christmas II You, and while neither is wholly original (the second is principally standards with only a few original tunes), Carey owns this niche. Merry Christmas is the biggest selling Christmas album of all time, with worldwide sales exceeding 15 million copies.

And if Biebs is taking the original song route, he should be aware that Carey has set a pretty high bar. In the 17 years since its release, "All I Want For Christmas Is You" has become a standard itself – the New Yorker called it "one of the few worthy modern additions to the holiday canon." The track resurfaces on worldwide singles charts every holiday season, and topped the Billboard Hot 100 Re-currents Chart every year from 2005-08. The numbers for it are actually kind of staggering – "All I Want For Christmas Is You" is the best selling holiday digital single ever (and the nineteenth best-selling digital single of the 20th Century!), the most downloaded holiday ringtone of all time and is Carey's biggest single ever in the UK.

It's probably worth noting here that we cannot speak impartially about Carey or "All I Want." Like so many others who grew up during the peak of her popularity, the song has become the Christmas track of our generation. Little Drummer who? Jingle what? It is inescapable and amazing. During college we used to ride around with friends singing "All I Want For Christmas Is You" in the middle of July. This song is so good, it's Christmas every damn day, if you ask us.

And now the kids will have fresh Bieber songs to spike their holiday season. We'll stick with our girl Mariah, but that's great for them. Bieber is a talented kid, so there's no doubt he'll deliver the goods. And if he plays his cards right, as Carey did, he'll be living off royalties for years to come. How else do you think she affords all that glitter?!
Simon Cowell Hails Mariah Carey
Posted by
Lynn
on Friday, 02-Sep-2011, 3:13PM EDT
The
X Factor
USA judge joined fellow panelists Paula Abdul, LA Reid and Nicole Scherzinger in discussing their favorite artists for a
Fox All Access
radio special.
"Mariah is everything you want a diva to be," Cowell said during
The X Factor: The Judges' Ultimate Picks
. "To me if you look in the dictionary under diva it says see Mariah Carey.
"She gets it and it's everything a star should be. Great, great, great singer, unbelievable songwriter and I just adore her."
Cowell, who will be aided by Carey during the Judges' Houses stage of the competition, continued: "I absolutely love her, I love everything about her and she is a kind person but she is also very competitive and I like that and that's what makes her special."
The
X Factor USA
's two-night premiere kicks off on Wednesday, September 21 and Thursday, September 22 at 8pm ET on Fox.
Online Users
ON THE COVER »

---





UPCOMING EVENTS »

---

April 27, 2015
New Single Release: "Infinity"

#1's Kickoff Event
Caesars Palace - Las Vegas, NV

May 6, 2015
#1's Opening Night
Caesars Palace - Las Vegas, NV

May 18, 2015
#1 To Infinity CD Release

July 8, 2015
#1's July leg begins
Caesars Palace - Las Vegas, NV

August 28, 2015
#1 To Infinity Vinyl Release

ON THE TUBE »

---

Sunday, May 17, 2015

Billboard Music Awards

8 pm ET/PT -- ABC

Monday, May 18, 2015Ellen

Syndicated - Click

here

to check local listings.

Jimmy Kimmel Live

11:35 pm ET/PT -- ABC

Friday, May 22, 2015Live With Kelly & Michael

9 am ET/PT -- ABC